Siridhanya Millet producer group

This producer group, started in March-2014, comprising 17 members, is procuring and processing different millet grains (Navane, Same, Aarka, Sajje) into dehusked rice or broken Rawa or flour and marketing the products.There are very few places (in the state or even country) where the specialised machinery for processing these small millet grains are operating. Hence this group's activity is a great step in promoting/revival of cultivation and consumption of millets.
This is a relatively bigger budget enterprise started with an initial budget of about 2.7 lakhs, Rs 43520 coming from members' contribution, the GF organisation providing Rs 810450 for installing the required machinery, plus Rs 95000 (for running costs or grain procurement) and another 50000 Rs loan given by Janadhanya.
[ Apart from wages Siridhanya Millet producer group earned group income around Rs 54,000 ]
The group has so far procured 17.376 tons of millet grains worth about Rs 4,22337, and have processed and sold about 4.76 tons of products (millet rice, rawa and flour together) worth about 3,56000 Rs. They have also sold 520 kgs of grains as seeds.
This activity has provided ~460 days of labour for the group members earning wages of ~45600 Rs. There are about 106 PGS certified farmers in this village (about 700 farmers in the whole Taluk) from whom the food grains are procured. These farmers have got better price for their produce than open market price, at their door step.
Siridhanya Utpadakara Sangha : A minor millet processing producer group in the Gollaradoddi Village of Kodihalli Division of Kanakapura Taluk that can process Foxtail millet, Little millet and Kodo millet. The group consists of 17 women farmers with landholdings between 0.5 -1.5 acres of land.
Location: Gollaradoddi Village, Kodihalli Division, Kanakapura Taluk, Karnataka
Members: The Siridhanya Utpadakara Sangha producer group was formed in (DATE) and all members are women farmers with 0.5-1.5 acre landholdings. The group is involved in procuring, processing, and selling local millet varieties.Organically-grown foxtail millet, little millet, and kodo millet are procured from the producer group members and other local farmers. The millet is then cleaned, graded, and packaged on site. The producer group also grinds the cleaned millet into flour.The millet processing operation provides weekly employment throughout the year that the producer group members can balance with their daily agricultural work and family obligations
Camille additions: The Sangha members say that the biggest benefit they receive from being part of the Producer Group is the steady work provided by the processing center. Rain has been scarce in this area, and without rain there has not been any agricultural work. The processing center is currently the only form of steady employment in the village available to them.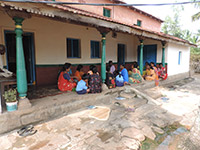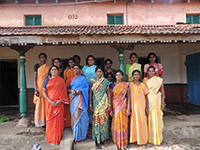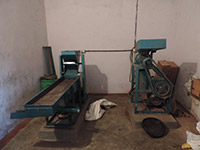 ---