Mahalaxmi vegetable nursery producer group

This group in Marasandra village, KodihalliHobli having 7 women members was started on 20-1 2014, with an initial fund of about Rs 52500. GF has provided 35000 Rs mainly for initial construction of the green house. The members have contributed Rs 17500 which they have used for buying basic input materials. The small green house has a capacity of raising 12500 saplings in about 40 days. The group has so far sold saplings worth 130000 Rs, mainly, Brinjal, Tomato, Chillis and Marigold verities. The members are working collectively sharing all the profits equally but not separately drawing wages for their work.
Sri Mahalakshmi Sashi Utpadakara Sangha : Formed by 7 women members of the Marasandra Village in Kodihalli, this group producers vegetable seedlings that are sold to the local market.
Location: Marashandra village, Kodihalli division, Kanakapura district, Karnataka
Members: One of the Janadhanya's primary goals is to simultaneously promote rural livelihoods and maintain regional crop diversity. The Sri Mahalakshmi Sashi Utpadakara Sangha producer group, formed in (DATE), embodies this goal by growing local varieties of vegetable seedlings that are sold to farmers in the surrounding area. Using seed from the community seed banks in the Janadhanya network, the women in this producer group cultivate chili, tomato, brinjal, and ornamental flowers, among other crops. This system provides quality, traditional seedling varieties to producer group members and local farmers for use in their kitchen gardens and farms.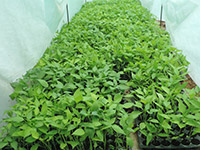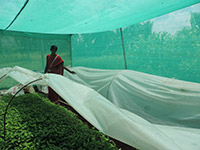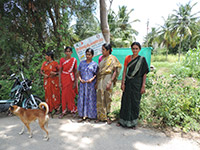 ---